Monday Apr 05, 2021
Let's Age Brilliantly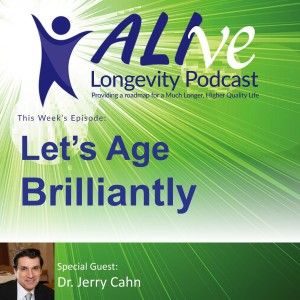 We all want to lead a fulfilling future. That's why planning is important. In this episode of ALIve, CEO and Co-Founder of the Asher Longevity Institute John Asher interviews Dr. Jerry Cahn, CEO of Age Brilliantly, a community platform for people who want to live longer, healthier and happier lives to 100+. It brings together resources and people to discuss Purposeful Living, Financial Security, Healthy Aging, Travel, Lifelong Learning, and ways to Build and Maintain Relationships, all to help people make better decisions and plans for their next stages in life. In a simpler world, work-life balance was the goal. In the elongated life, you need to consider more life essentials, individually and collectively. Life fulfillment results from the tradeoffs you make between them and integrating those decisions into a lifelong, holistic balance. What does your future self look like?
About the Host: 
John is an experienced international speaker on living a longer, healthy life and key founder of Asher Longevity. In his late 70s, John is vibrant and active, delivering sales training and life longevity information in the USA, Canada, and China. John's mantra is always "making the complex simple". He first applied that to growing a highly successful sales training company. Now he has applied it to the principles of living a long and active life. He has taken mountains of information on supplements, new innovative treatments, and lifestyle habits and combined them into a simple system that is constantly updated and refined by the Asher Longevity Institute.
About John's Guest:
Jerry Cahn, Ph.D. J.D. is CEO of Age Brilliantly, a community platform for people who want to live longer, healthier and happier lives to100+. He is also Chairman of the New York City based Presentation Excellence Group, providing presentation training, leadership consulting, and organizational consulting to startup and Fortune 100 companies, enabling them to win million- dollar deals. Jerry is a leader of top-performing CEO groups aligned with Vistage Worldwide, helping leaders become better leaders by making better decisions about their companies and themselves, and producing superior results. And he's an Adjunct Professor of business strategy, leadership skills, entrepreneurial communications, and negotiations at Baruch College, CUNY.